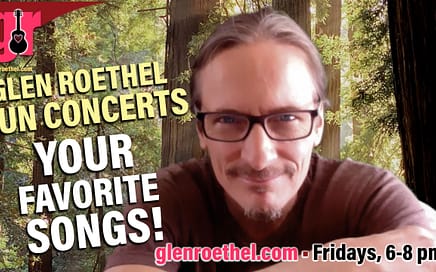 Come enjoy an evening of familiar songs about "Places" (plus your requests!), and a fun, lively chat!
Continue reading
Glen's next theme is Eagles, Beatles, and requests on "Feel Normal Friday" 🙂 YouTube:https://www.youtube.com/user/glenroethel/livePlease subscribe to my YouTube Channel. Facebook:https://www.facebook.com/events/524735371748687
Continue reading
Glen's pizza/wine/acoustic YouTube Live Stream Concert Request Party, Friday, April 17.
Continue reading